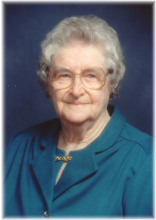 Mary Frances Favre Hiegel
3/20/1903 - 12/1/2003
Mary Frances Favre Hiegel, age 100, of Conway, passed away Monday, December 1, 2003 at St. Andrews Place Nursing Home after 8 -1/2 years of residence there.
She was born March 20, 1903 in Conway to the late Leo C. Favre, Sr. and Josephine Ficker Favre. She was also preceded in death by her husband, Peter P. Hiegel, six brothers, Father Alphonse Favre, C.S.Sp., Leo E., Carl, John, Joe, and Pete Favre; and two sisters, Sister M. Winifred, R.S.M., and Catherine "Katie" Favre.
She had five children, the late Leo Hiegel and his surviving wife Mary E. Hiegel of Little Rock, Alphonse (Al) Hiegel and his wife Mary Hiegel of Conway, the late Therese Hiegel Rehm and her late husband Walter Rehm, Paul Hiegel and his wife Lou Hiegel of Conway, Andrew Hiegel and his wife Mary Ann Hiegel of North Little Rock; two sisters, Caroline Favre of Conway and Sister M. Laurene, R.S.M. of Barling, AR; 7 grandchildren, 18 great grandchildren, and 5 great-great grandchildren.
Mrs. Hiegel was a lifelong and the oldest member of St. Joseph Catholic Church. She was a housewife and an old fashion cook who made the best divinity and chicken and dressing. She loved to crochet afghans and one of her hobbies was fishing from the bank with a cane pole. She enjoyed working in her flower garden, especially with her roses. She was a member of the Christian Ladies of St. Joseph, serving as President and Secretary, and was a member of the Catholic Knights of America.
Christian Ladies rosary will be 2:00 p.m. Thursday and Parish rosary at 7:30 p.m. Thursday, by Fr. Martin Conroy, C.S.Sp., both at Roller-McNutt Funeral Home, Conway.
Funeral Mass will be 11:00 a.m. Friday at St. Joseph Catholic Church in Conway, by Fr. Tom Byrne, C.S.Sp. Burial will be in St. Joseph Cemetery.
Pallbearers will be Philip Hiegel, Jerry Hiegel, Lawrence Hiegel, Robert Hiegel, David Hiegel, and Paul Tipton.
Memorials may be made to St. Joseph School Endowment Trust, P.O. Box 1709, Conway, AR 72033.
Obituary Provided By:
Roller-McNutt Funeral Home
www.rollerfuneralhomes.com